With the player yet to appear in a red shirt, my first close-up look at Alberto Aquilani came in the Melwood canteen, when he politely interrupted my discussion with Rafa Benítez. Luckily for him, I didn't know how to say "how dare you?" in Italian. Apparently he had something important to talk about – his first outing for the reserves that night, or something – so I left the "do you know who I am?" till another time.
I can honestly say that it was a first; I was at Craven Cottage for the debut of Fowler, Selhurst Park for Owen's first bow and Anfield when Steven Gerrard came on for his initial substitute appearance. I saw the debuts of Hyypia and Hamann at Hillsborough, and have witnessed the inaugural outings of several other luminaries since my first game in 1990. Never did I expect to first encounter a player as I ordered paella.
Like most sane Liverpool fans, I've been disgusted by some of the absolute tripe written about Aquilani. Perhaps I should know not to expect better, but the hysteria surrounding some of the reporting on the Italian beggars belief.
"Worst buy of the season", declared Gary Lineker. "A flop after his debut" said Oliver Holt of the Mirror, referring to the victory at Aston Villa, ignoring that his debut was a few days earlier.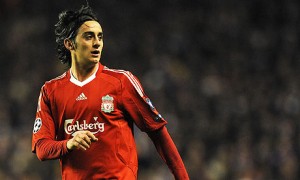 Yes, let's ignore the fact that players are signed for long contracts, not short hauls.
All this followed months of impatience from fans and media alike, none of which helped Benítez or his Italian acquisition. For many the new signing turned into the solution to the problem, and then as soon as he played, he himself was a problem. Classic football nonsense.
So, let's have some facts, and some analysis of why it took so long for him to get a game, and what at he's done in the first team, now that he's had a few starts.
[ttt-subscribe-article]