So utterly and blindly against Rafa Benítez are journalists like Martin Samuel and Henry Winter, they've gone so far as to defend Graeme Souness' record as a manager (which, at big clubs in big leagues, is woeful), and even suggest that Benítez's record, and his side, is no better than the truly abject team of 15-18 years ago.
That's right. Souness, who spent big to take Liverpool from 1st to 8th (or 2nd to 6th if I'm being as kind as possible by topping and tailing his first and last season), at a time when the club was still the biggest draw in English football, is on a par with Benítez, who took a team that had finished 5th and 4th in its previous two seasons up to 3rd on two occasions, and 2nd once. Oh, and to two European Cup finals, and a further semi-final.
But all this counts for nothing. Apparently Benítez is no better than Souness was because before the halfway point of this season, the Reds are roughly placed where Souness' Liverpool averaged out over his entire tenure. If you can spot the logic, please send it in on a postcard.
If I was making up some of the stuff I was accusing them of saying, you'd tell me that it was a dumb joke.
Yes, Rafa had the temerity to hit back at his critics last week. How dare he? In a season when he's had to use 12 different defenders, and 14 different back-lines, due to terrible luck with injuries, not to mention problems with the form and/or fitness of Torres, Gerrard, Carragher and Mascherano, he's fought his corner. The bastard.
When the son of a rival manager, or the man brought into the Sky studio simply because Liverpool's owners wanted him to replace Rafa in 2007, or a big name from the past like Souness, actively attack (under the guise of 'opinion', which means to hell with the facts), then he can't question their motives or records in reply? Can the man not defend himself in his own press conference?
And it's not like he even brought up the subject. The press did that! The press then slate him for answering with honesty. Talk about hypocrisy.
Were the records of these out-of-work/ex-managers-turned-critics superior to that of the Liverpool manager, to give them the moral high ground? No.
Has Benítez not the right to say "in fairness, what do they know?" after they attacked him. Isn't self-defence allowed?
Not only are these Sky pundits not privy to what's going on at the club, and at training, in terms of fitness/confidence of players, etc, their own general knowledge of what it takes to manage at the sharp end of modern big-league football is beneath that of the man they are attacking.
Yes, they are being paid to give their opinion. But their opinion counts for about one-billionth of that of the current incumbent of the Anfield hotseat, unless that happens to be them. They are giving their opinion on what Benítez does. Can he not say "well, did you do any better"?
Whatever Souness did in Scotland, or Turkey, or for a brief while with Blackburn, let me be unequivocal: he had his chance to do his talking for Liverpool between 1991 and 1994. And all we got, to finish the metaphor, was verbal diarrhea.
Not only that, we got actual verbal diarrhea. Souness sold his story to the Sun on the eve of the 3rd Hillsborough anniversary. Nice touch, that. And we're supposed to believe that he understands the club? That he 'cares passionately' about it?
Then there's Klinsmann, who, lest we forget, did take Germany to the World Cup semis – but that's statistically no better than par for the course for a home nation. Even South Korea managed that. (Hell, even England managed that both times they hosted a major tournament.) And Bayern Munich, his one big club management job? Disastrous. Maybe he didn't get long enough to prove himself, but he still didn't do enough to pass damning judgement on others as part of Sky's mischief making.
Yes, Souness was a great player, but so what? So was Paul Gascoigne. Doesn't mean he's a great thinker on the game. I'm not saying Souness is as stupid, as he's not. But is he a world-class manager? Or even a top-class manager? Or even an above-average manager?
But why don't the media pay more attention to the testimony of people like Didi Hamann, an intelligent man who played under Benítez, and therefore knows the current Liverpool set-up and its manager? People like Souness, Ray Houghton and Ronnie Whelan live in the past.
No matter that players like Torres and Reina profess their undying admiration for Rafa, and for Liverpool FC, we're told by Jamie Redknapp that these kind of players will be off at the first whiff of underachievement. And that it's all Benítez's fault.
Apparently it's fine for a West Ham fan like Samuel to tell us about our club. Whether or not he is generally a good football writer, it's clear to the more discerning, intelligent Red that he understands precious little about the club, in terms of its football, by comparison with people like Tony Evans, Brian Reade, Tony Barrett and yes, that Paul Tomkins (isn't it so very football, to talk about yourself in the third person?).
In terms of understanding Liverpool FC and Rafa Benítez, the likes of Samuel and Winter are actually quite ignorant. I could write a load of tosh about what's gone wrong at West Ham, but I'd sure as hell not blame poor Zola, whose squad has been sold from underneath him. Even so, I'm far from an expert in West Ham, and wouldn't dare get all preachy about them. And even those who take diametrically opposed views to me cannot deny my expertise in the area of Liverpool FC.
Should they wish to compare Souness and Benítez, I'd ask such journalists (or should we say "opinioneers") to go read my book Dynasty, for which I developed a whole host of unbiased criteria to judge the eight Liverpool managers since 1959.
These criteria were created and only then applied to the managers in question; whatever came out, came out. Success, games won, trophies collected, progress made, money spent (crucially, in relative terms.)  This is why Squarefootball chose to say "Where Tomkins excels is in approaching each manager without any apparent pre-conceived ideas."
If anyone thinks I am not prepared to give Souness a fair hearing, read the book. I list the problems he encountered, and suggest one particular area (diet and alcohol) where his thinking was ahead of its time, but where he found himself stymied by the thinking (drinking?) of the past.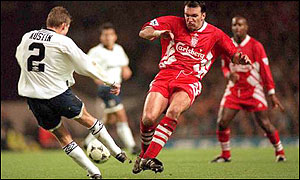 In amongst listing his litany of horrible expensive signings, his volatile temper, his awful win percentage, the shocking fatness of around half of the team at one point (Molby, Barnes, Dicks, Stewart, Ruddock, Whelan), I did point out the few areas where he saw the future, and where bad luck (such as the career-changing injury to Barnes) hampered his efforts.
So, with this one problem in mind, is it fair to now wheel out Souness – a similar relic from the past that he had to contend with almost two decades ago – to condemn a man whose record is exceptional in the current decade, and whose success suggests he understands the modern game to an infinitely higher degree? – and to do so during the worst injury crisis in years?
Sorry, but that's just below the belt. It's like a cycle of abuse; just because people were unfair to you in the past, you have to make a living being unfair to them.
I also point out in Souness' defence that he inherited an ageing team, with Kenny Dalglish, having done such a brilliant job before Hillsborough, struggling with stress afterwards, and as a result, finiding it harder to make tough decisions. There was also the new foreigner rule for Europe.
However, with that in mind, Souness then went and sold Peter Beardsley, Ray Houghton (awful pundit, but then still a very good player) and the young Steve Staunton. Talk about getting it wrong.
Samuel praises Souness for leaving his successor Fowler and McManaman; which is laughable, seeing as 'Macca' was given his debut by Kenny Dalglish in 1989, and it was the same man who tempted the prodigious Fowler to Anfield as an obvious star for the future. Anyone at Melwood at the time could tell you he was a shoo-in, whoever was boss.
It's like praising Benítez for leaving his successor both Gerrard and Carragher – something I can't see his critics doing, if such a time comes. (Although maybe they should acknowledge the massive improvement in these established players after Rafa's arrival?)
Samuel, who only last season was holding up aspects of Liverpool's team (such as Kuyt) as stellar examples for England to follow, now thinks Liverpool possess "a pedestrian squad, emboldened by a sprinkling of exceptional individuals".
Talk about your typical mood-swing pundit. After all, only three of the faces have changed, and if pedestrian is taken to mean slow, then it makes even less sense. (Alonso's passing was quick, but he and Hyypia were not exactly sprightly. Arbeloa was fairly quick, but a slouch compared with Johnson.)
Presumably, given his current stodgy season, Kuyt is now one of those 'pedestrian' players. How quickly opinions change. I still have the glowing tribute Samuel paid him this March saved on my computer.
But just a 'sprinkling' of exceptional individuals?
Torres? Gerrard? Reina? Carragher? Agger? Mascherano? Benayoun? Johnson? Aurelio? Aquilani? Well, there's ten who almost any top club would at the very least want in their squad, with the majority in their side. And players like Skrtel are certainly no worse than the 'squad' defenders at the other big clubs.
That's before even getting onto 20-year-olds like Insua and N'Gog who, if at Arsenal, would be eulogised about as these great unknowns that Wenger unearthed and honed; instead, they are these dismissible 'nobodies'.
For instance, Benítez has been called a fool for not signing Michael Owen, and sticking with N'Gog. Yet Owen has two Premiership goals in 395 minutes, while N'Gog has three in just 349. Owen may well end up having a better season, but N'Gog has done as well as any stand-in can be expected to, and will be a top player long after Owen is long-since washed-up. And that's before getting into the whole Owen side-show if he was ever left on the bench.
Samuel also keeps using his tired, lazy conclusion that it's somehow easy for Liverpool now as they're part of a big four regularly playing in the Champions League. (His new conclusion is that it was therefore harder for Liverpool under Souness as they weren't. That's right; Liverpool were such a weak force after all those league titles, weren't they?).
While there's some truth to the argument that the Champions League in some way helps Liverpool, it's only a small part of the story, which ignores the hindrance of all the extra games and continental travel.
After all, if you haven't got a massive, super-expensive squad, it's harder to deal with not one but two major competitions, which need juggling. Add international breaks, too, and it's a minefield. And it also ignores the fact that Liverpool were not regulars in the competition until Benítez arrived, let alone qualifying from the group stages five seasons in a row.
What Liverpool gain in extra money, they need just in order to be able compete with richer clubs. Even Spurs have a squad that's £50m more expensive than the Reds'. But while Liverpool have to keep a lower wage bill than other top clubs (the rest of the 'big four'), they have to do well in both the league and Europe just to keep pace.
Aston Villa don't. Spurs don't. City don't. They are outspending Liverpool even without the Champions League. They are not under as much intense pressure to qualify.
They seem like financially stable and/or ultra-rich clubs; something that is patently not true at Liverpool, where the owners have saddled the Reds with a debt none of us asked for or expected, and seen the club having to pay off interest rather than reinvest transfer profit in the team.
Is it coincidence that, according to Opta, Arsenal and Liverpool's win-rates after 26 international matches since 2006 is less than 60%, while Chelsea and United's are both in excess of 80%?
Do you really need a starker illustration of the difference Arsenal – who had this exact kind of season last year (how quickly the 'goldfish hacks' forget) – and Liverpool experience in terms of financial might regarding squad depth?
But Samuel's biggest joke is in painting Liverpool to be some kind of pauper back in the early '90s. While I'll admit that the marketing machine was never engaged, meaning the Reds didn't make the kind of money United later would, 25 years of success left the Reds – at the time the absolute paragon of stability from top to bottom – on the dawn of the new Sky era, as wealthy as any club around.
Poor Souness, eh, having to manage with people like the legendary Peter Robinson at the tiller. How horrible, having one of your best mates (David Moores) running the club. How terrible, not having warring owners on the other side of the world, and not facing sickeningly-rich rival clubs who make you look like a charity shop wedged in between Selfridges and Harrods.
Now come on, even a journo with a head full of barnacles can see that, currently, United, Chelsea and City are undeniably richer; at the very least, their bosses are more able to call upon massive funds than can the current Liverpool manager. The way Arsenal are run, with their 60,000-seater (and expensive ticket prices) mean that they can pay bigger wages than the Reds; while the cost of Harry Redknapp's squad, as mentioned earlier, far outstrips that of Benítez's.
But if you look at Liverpool in 1991, Souness could instantly break the transfer record (something Benítez has yet to even get near), and make a further five signings that were well over half of that high transfer watermark.
Looked at as a % of the transfer record of the day, Souness, in less than three yeas, signed six of the 19 most expensive Liverpool players purchased between 1959 and 2009. In other words, in relative terms, he signed almost ONE THIRD of the Reds' costliest players between the day Shankly arrived and as I sit here now, typing away.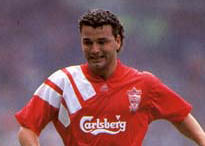 These great investments? In descending order: Dean Saunders (out of his depth, but good against Finnish part-timers); Mark Wright (poor for most of his time at Liverpool but one great season under Roy Evans); Neil Ruddock (overweight poseur with great left-foot and even stronger drinking arm, and – puke – self-styled hardman); Paul Stewart (beyond a joke); Julian Dicks (looked as at home as Barack Obama at a KKK meeting); and Nigel Clough (vanished without trace after about 10 decent games).
Just typing the names makes me cringe. That's before getting onto the cheaper flops, like Kozma, Piechnik, Walters, et al.
The only 'very good' signing Souness made according to the votes of the Dynasty's Brain Trust (Brian Reade, Oliver Kay, authors/season ticket holders Neil Dunkin and Chris Rowland, as well as Vic Gill, the son-in-law of Bill Shankly, club statistician Ged Rea, and other long-standing Reds), was Rob Jones, on the basis of each player's time spent at Anfield. He ranked at 31 out of the players of the past 50 years – the only Souness signing in the entire top 50! (Benítez has eight signings in that elite group.)
In almost twice as long in charge, Benítez, going back to the Relative Transfer System (©), has signed just two of Liverpool's 20 costliest: Torres and Keane.
Keane flopped on the pitch (although not like Paul Stewart!), but at least all of the fee can yet be recouped (even if it's likely that only approximately 75% will, unless Spurs are ultra-successful).
By contrast, Stewart, Ruddock and Clough all left for free, having cost the equivalent of £20m+ in today's market. Remember, these were big, big money signings.
I'd like to think that the likes of Samuel and Winter would pick up a meticulously-researched book like 'Dynasty', or read this piece, and question their own sureness.
Because, by contrast, I don't take my 'opinions' from thin air; I use all different kinds of approaches, from, one way or another, seeing every 90 minutes of football the Reds play, through to my own unique statistical information (which includes work from published statisticians) and analysis that helps make comparisons possible.
I've never said that I am right all the time. I always come from the point of view of challenging criticism of a proven manager rather than the manager himself; just as I've done in the past when arguing a defence of Arsene Wenger. I don't know more than world-class managers; I do know more than most people who write about Liverpool FC, particularly those who only get snippets of the full story.
However, what I do say is that if football is a results game, it should be based on seasons of football, not months or weeks. Even after six defeats this season, Benítez's percentage of league games won is 56%; Souness' was just 41%. Benítez has given the Reds some great seasons, even if this clearly isn't one of them.
And hell, Benítez, all the way back in 2009 (can you remember such a long time ago?), gave the club it's most credible title challenge for almost two decades.
It's so easy to just state what's wrong. And it's easy to forget you're talking about seasons that aren't even at the halfway stage, as if it's a finality.
While winning the league this season is no longer a particularly realistic ambition, remember that where teams are in December does not dictate where they will be in May.
In 1981, Liverpool were 13 points off the pace at Christmas, having won only five of their first 15 games (six draws, four defeats) up to mid-December. But 21 of the next 27 games were won, as was the title.
Now, my point is not to say that the same can happen this season. My point is that this was the great Bob Paisley's European Cup-winning team. Thank God there was no Sky, 606 or internet then, eh?
Then there's the team that reached the European Cup Final in 1985; the reigning treble winners, no less. They'd lost their key midfielder (Souness) and had injury problems. Sound familiar? At this point, they'd drawn six, lost five and won only seven. They didn't win the league, but they improved to finish 2nd. Were they defined by their form to December, or their form to May?
More recently, in 1996/97, Man United were 6th at this stage. A year later, Arsenal only had 27 points after 15 games. Both teams went on to win the league. Again, the point is to show that it's not purely about where you are in the marathon after just over a third of the race. After all, at this point last season, Hull were in the top four; a few months later they were in the relegation zone. Only by May have things settled down enough to take true stock of the season.
Conclusion
Perhaps I should have seen this season coming: not the results, but the overreaction to the early defeats that meant, to many, Benítez was a dead man walking.
After all, just months earlier he had led the club to win its 2nd-highest ever percentage of points in a season: 75%.
That's right – three out of every four points on offer were bagged.
That's right – in almost 120 years, only one season – 1978/79 – saw a greater percentage of points gobbled up.
And despite this, many blamed Benítez for 'blowing' Liverpool's best chance of the title in years; and this with Fernando Torres failing to start half of the league games due to injury.
With that insanity in mind, any tough times were only going to be more unfairly analysed, creating a massive pressure around the club; and there you have a vicious circle, with every setback feeding into the original hysteria. The fact that many of those commenting on Benítez's abilities have made it perfectly clear that they don't like the man, let alone trust his 'crazy foreign ideas', and as a result, have been waiting for him to fail, just proves my point.
They influence the idiots who phone 606, etc, and those idiots are then used by the media as examples of Liverpool fans losing faith. Then the cycle gathers speed and momentum, and next the semi-stupid are gathered up in its wake. And on it goes, with pundits speeding up the unrest.
I mean, I write about Liverpool FC for my living, so you can excuse my obsession; people like Stan Collymore and Tony Cascarino (hardly the sharpest tools in the box) work for neutral sources, yet attack the Liverpool manager on a weekly basis. Don't people find that weird? And that's before getting onto the almost daily diatribes in other papers and on Sky.
If Benítez can give the club its 2nd-best ever season in terms of % of points won, and raise it up to be ranked #1 in Europe – both in the very recent past – and do so while "outperforming the wage bill" (The Times' Fink Tank), he deserves the chance to ride out any storm, and the chance to correct those elements that he, and his staff, feel could have been better handled.
What he'll never have, barring a miracle, is the relative financial might of the Liverpool of the early '90s. And the sooner the wider public wakes up to that fact, the better.
Postscript: As Martin Samuel equated Liverpool's current position to Souness' average league positions, it's worth showing this league table, from 7th March 1993 (thanks to Graeme Riley). So if you're going to make comparisons between the two at uneven points of the season, why not choose this, when Liverpool were 16th after 30 games? Even then, Liverpool recovered to finish 6th.