Yet again, more lies about Heysel, and now the accusation that Athens was almost turned into another Hillsborough by Liverpool fans.
First, for any Liverpool fans who want the truth about Heysel, Chris Rowland's book, for which I wrote the foreword, is essential reading. Click here to purchase, or click on the ad on the right hand side of this site for more information.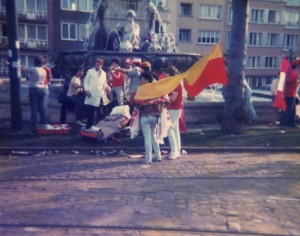 It seems some people cannot tell the difference between murder and manslaughter, and it's ironic that it's from a Chelsea fan; lest they forget the trouble they caused in the '80s, that might well have ended in numerous fatalities had they occurred in a stadium that was already known to be a potential death trap. Few, if any, fans of any club can take the moral high ground over violence in the '70s and '80s. Hell, plenty of fans write books glorifying their fights and firms.
From Where I Was Standing was described by Programme & Football Collectable Monthly as "a searingly frank account" of the events in 1985. Crucially, as well as Chris' own experiences in Belgium, it provides details the full official reports and inquests into the tragedy.
Then there's the Athens issue, raised in this Chelsea blog.
I was at the final in 2007, but already inside the ground when problems arose. However, for my book Above Us Only Sky (which I withdrew from print shortly after its release due to changes at the club), I spoke with fans caught up in the crush. The entire chapter on the subject is reproduced in full below:
Final Fallout
Upon exiting the tube station at the Olympic Stadium in Athens, three hours before the kick off to club football's biggest game, fans are instantly ushered into this other-worldly experience; perhaps this is the norm for Champions League finals. With Istanbul it was the stadium in the middle of nowhere: lights beaming up ahead from what appeared like a crashed spaceship deserted on a remote Martian landscape. In Athens, it was the sea of Reds at the cordons on the tube station concourse, beyond which lay the expansive outer limits of the stadium, with its endless rows of elaborately decorative white arches like a half-mile ribbed sculpture, with beyond it in turn the surreal mixture of gushing fountains, riot police and scantily-clad dancing girls.
It was a final sandwiched with ill-feeling. Before the game there was the frustration of Liverpool fans who could not get tickets due to the limited allocation, which led to protests. Then, after the match came days of brickbats in the press, with Liverpool fans complaining about the organisation and Uefa launching scattergun potshots at the travelling Reds like over-eager police spraying all and sundry with tear gas.
Uefa appeared to be gunning for Liverpool. First of all, there was the negligence, perhaps borne of self-serving interests, in allocating a pitiful proportion of the tickets to a club with a history of getting 40,000 fans into far-flung finals. Allocating less than 17,000 tickets to each set of fans in a stadium that holds 63,000 left a lot of genuine fans in the cold. Every year the clubs that contest these games seem less and less relevant to the organisers. Once Liverpool had supplied its usual amount of tickets to those to whom they have a long-standing obligation –– sponsors, shareholders, employees, players and ex-players –– then only 11,000 remained for those who'd accrued the expected amount of credits through attending previous rounds. Rick Parry came under fire for only belatedly revealing this breakdown of allocations.
More than this, there was the thorny issue of the G14, the group of clubs (which now stands at 18) who have united to form a representative body, and who many feel will eventually usurp Uefa; at the very least, its existence puts pressure on Uefa, given the profile of the clubs involved. Michel Platini, the new President of Uefa, stated soon after the final that he wanted to see the G14 disbanded. The timing was interesting, given Liverpool were one of the founding members, along with AC Milan.
Then there was Uefa's policy of defending their own shortcomings over the Athens debacle by going on the attack. The reputation of football fans is easy to tar, and in the case of Liverpool fans, there's no forgetting Heysel in 1985 and the six-year expulsion that followed. Perhaps it's significant that Platini was a Juventus player that fateful day?
Liverpool will never escape that particular stigma, and while there was some shameful behaviour at the crumbling Belgian stadium, both sets of fans were engaged in ugly exchanges. The collapse of that mouldering wall, which resulted in the loss of 39 lives, was extremely tragic, but it was not a wilful act of murder. While Liverpool fans needed to take responsibility, so too did the Italians. The loss of life shouldn't have obscured the fact that their fans were partly to blame for the hostile situation that arose by launching missiles at Liverpool fans. Athens, while free of such tragedy, and with few reported serious injuries, was easy to lump with Heysel as rowdy Reds misbehaving. With Heysel always in the back of people's minds, it was possible for Uefa spokesman William Gaillard to stick the boot in in the wake of disturbances around the Olympic Stadium in the Greek capital.
On June 3rd 2007, Gaillard claimed Liverpool's were the "worst behaved fans in Europe" –– manna from heaven to the headline writers. Instantly there followed a whole host of articles quoting him verbatim, with little to redress the balance of the story in those initial reports. Like a lawyer who makes a damning statement in court which he knows will be struck from the record, Gaillard knew that his comments would not be so easily struck from people's memories. In that sense, he was highly manipulative. Gaillard said: "We know what happened in Athens, and Liverpool fans were the cause of most of the trouble there. There have been 25 incidents involving Liverpool fans away from home since 2003 and these are in the report –– most teams' supporters do not cause any trouble at all."
A Liverpool spokesman countered with: "The shortcomings in the management of the situation in Athens were apparent to anyone who was there. This latest statement from Uefa should not deflect attention from that reality." Sports minister Richard Caborn rallied to the club's aid, helping it take the fight back to Uefa over shoddy organisation. Meanwhile, former Conservative leader and Liverpool fan Michael Howard was at the game and said ticket checks at the stadium were "a joke". While not the most credible of celebrity fans, he was at least someone unlikely to go to Athens with the intention of picking fights with Greek riot police.
Problems broke out over an hour before the kick off when fans with genuine tickets were denied entry into the ground. Police told fans going through the penultimate checkpoint to halt, then riot police formed a line to prohibit other fans joining queues to move through the checkpoint. Earlier in the day thousands of fans had passed the checkpoints by waving their tickets in the air in front of disinterested guards; some merely waved pieces of paper. Having queued for hours and patiently passed a number of cordons, the unfortunate final groups of fans were told that the stadium was full. There was some unrest, as tempers understandably flared, and fans were tear-gassed.
Andy Knott from the fanzine Red All Over The Land, and organiser of a number of the Kop's stunning mosaics, told BBC Radio Five Live that both the fans and the authorities were to blame for what happened: "It's a culmination of everything. The Liverpool fans weren't innocent and a lot of them have got to have a look at themselves and take that into account. But at the same time Uefa have got to look at it and instead of trying to give token games to people with big stadiums, they've got to do it in a proper way. I mean how you can have a football ground without a turnstile –– where it's just a metal gate that opens and you walk through –– its just not football is it?"
Gaillard spoke of his organisation's damning 25-incident dossier, but did so without making the document public. It was a bolt out of the blue. According to Gaillard the charges included the ludicrous charge of stealing Uefa flags from the Olympic Stadium; taking home a memento from such an occasion is hardly a major crime –– if that's one of the examples Gaillard felt compelled to disclose to illustrate his disgust, you can only wonder at the nature of the charges he felt were less significant. Sticking chewing gum to the base of seats? And perhaps some fans felt they deserved a little more for the exorbitant €100+ tickets –– priced by Uefa, not touts –– than a stadium with limited amenities and no drinking water, unless you happened to be a Uefa delegate. Uefa were hardly in any place to accuse others of purloining.
Gaillard's invective just didn't tally with what the world –– and his own organisation –– has seen in recent years. Indeed, even his own memory seemed skewed. In 2001 Uefa gave Liverpool fans the Supporters of the Year award at a Monte Carlo gala for their behaviour at the Uefa cup final, where up to 50,000 were believed to have been present for the game against Alaves in Dortmund, Germany, which was a remarkable game played in a remarkable atmosphere. This preceded the 2003 start of Gaillard's dossier, but even so, it's strange that, within two years, Liverpool fans were suddenly a different proposition. Again, it still makes no sense when you consider that in Istanbul a further two years after the start date of the dossier, Liverpool fans were widely lauded for their behaviour by many (including Uefa), which produced not one single arrest. This is remarkable, given the heat and the alcohol consumption, and that 50,000 Reds were believed to have travelled to the edge of Asia for the game. After that final, Gaillard said: "Liverpool fans are wonderful people." What had happened in the meantime to make him perform such a dramatic u-turn, beyond having to somehow defend Uefa's woeful organisation of the 2007 final?
Uefa themselves praised Liverpool in 2005 following their match with Juventus, which was incredibly tense given that it was the first game between the two teams since the Heysel tragedy in 1985. Deputy chief executive Markus Studer said then: "Liverpool must be applauded for the way they handled the arrangements and the fans of both clubs understood the message. There was not a hint of trouble in the stadium, there was a fantastic atmosphere and both clubs must be praised. It was a very successful night for European football."
Rick Parry, countering Gaillard's accusations, mentioned the semi-final against Chelsea on May 1st 2007 as another example of when Uefa praised the Liverpool fans. "Let's not forget," said Parry, "that these same supporters who Mr Gaillard is claiming are now the worst in Europe were praised by Uefa President Michel Platini after our semi-final victory against Chelsea only last month."
The Liverpool Echo felt driven to respond to Gaillard's defamatory comments by writing a strongly-worded editorial, which included the following passage detailing a litany of serious events elsewhere: "When you consider some of the outrageous and downright evil incidents committed by hooligans throughout Europe in recent years, you realise quite how ridiculous Gaillard's position really is. On February 2 a police officer was killed in Sicily when fans rioted during a derby match between Catania and Palermo. On November 24, 2006, a French police officer shot dead a Paris-Saint Germain football fan after being turned on by a mob during racist violence that followed the team's defeat by Israeli side Hapoel Tel-Aviv. On Saturday night a referee was attacked on the pitch during an international match between Sweden and Denmark. The game had to be abandoned. On September 15, 2004, Anders Frisk was forced to abandon the Champions League match between AS Roma and Dinamo Kiev after he was felled by a lighter thrown from the stands. On April 4 this year twelve Manchester United fans ended up in hospital after Italian Ultra hooligans ran riot around the Roma vs United Champions League quarter final. Do incidents like these not pose a far greater threat to the very fabric of the game than those fans who Gaillard claims stole banners from the Olympic Stadium in Athens?"
There were seven Liverpool fans arrested in Athens, out of an estimated 40,000 or more; none for serious incidents. There was none of the kind behaviour seen by Inter Milan ultras in 2001: stealing a motor scooter, setting it on fire and hurling it from the second level of the Stadium.
On a personal note, I have travelled to the continent for a handful of European games this decade, starting in Rome in February 2001. On that occasion, a number of Liverpool fans were stabbed, in the same manner as Manchester United fans suffered in 2007, and as a dozen-or-so Reds in the 1984 final: mostly with a blade to the buttocks. In 2001, Liverpool fans in the stadium were pelted with objects throughout. Some retaliated by returning said objects, but beyond that there was no trouble, just the joy of beating Roma 2-0. Perhaps with Heysel in mind, a great deal of Liverpool fans are extra careful to protect the image of themselves and the club, although of course that doesn't mean troublemakers are never present in the ranks. The club's followers remain a fairly broad cross-section of society, not a collection of Trappist monks.
As was the case two years earlier, I received a ticket for the 2007 final in the neutral Uefa stand. Although Uefa's bloated sections have ultimately allowed me to attend the two finals, the ticket system is still something I'd happily see radically changed. (Encouragingly, on August 31st Michel Platini said from now on he wants to see clubs share 75% of the tickets.) Of course, it's hard to refuse the chance to attend if the ticket is not being taken directly from the more deserving hands of fans who narrowly failed to acquire a ticket through the club's ballot. In a more just world, these tickets would have been part of a much bigger allocation to Liverpool in the first place. But once these Uefa tickets are on the 'open market' (or in other words, tied up to hospitality packages or floating around on the black market) it leaves them open to anyone who gets lucky. Those around me in the stadium were mainly Liverpool fans who had presumably paid massively over the odds for their seats. Boycotting tickets from touts or corporate event organisers would only work if everyone stuck to it; but football fans know that others will always be too tempted to resist, and prepared to find the necessary money at the expense of common sense. Until Uefa, whose responsibility it is, get their act together and make the entire system fair in the way Platini is proposing, this situation will not change.
The previous good behaviour of Liverpool fans at finals in 2001 and 2005 does not excuse the minority who went to Athens without tickets, and made sure they were going to get into the stadium at all costs. Most fair-minded Liverpool fans who were in Athens agree that there was an element of the support that let the club down. It's hard to say for sure why this occasion drew them out in more significant numbers than in the past, but the build-up to the game was filled with a lot of anger over ticket allocations, so perhaps some spotted an opportunity. A number of tickets were snatched at the ground; as my party stood outside the first cordon, a boy could be seen running frantically from a group of chasing men, one of whose ticket he had in his hand.
Then there were the forgeries. Touts were trying to pass off colour photocopies for in excess of €1,000, while others, accepting that their wares were clearly as real as Pamela Anderson's breasts, were selling them for €20, and suggesting the buyer tried his or her luck at the cordons. I got to closely examine one forgery when a young Danish lad, shady Greek shyster in tow, came up to my group. The tout was offering him a ticket for €1,200, and he asked if he could he check it against our tickets for validity. When comparing it with the real McCoy it's flaws were instantly clear: logos that should have been yellow were orange, fine details in the design were totally absent, and the hologram was more like silver baking foil stuck on with PVA glue by a short-sighted five-year old.
It's hard to judge the intelligence of those who bunked in, or passed the cordons with obvious forgeries. In some ways, they could justify it to themselves by saying that they, and perhaps their mates, represented only a handful of extra people inside a stadium with plenty of room in the aisles. And after all, it's part of Scouse football culture. Of course, if a few thousand people are thinking the same thing, then you have a potential for massive overcrowding. With Hillsborough fresh in the minds of every Liverpool fan, even 18 years later, it's remarkable that some would even countenance such an act, let alone do so while wearing Hillsborough Justice Campaign stickers. The lack of perimeter fencing meant another Hillsborough was unlikely, but that didn't mean it was safe. And any overcrowding in an upper tier is instantly dangerous, while a moat-like ditch that lay directly beyond the barriers to the pitch-side would not make for a safe escape route. The whole event was shambolic.
Steve Walsh, a Liverpool fan now living in Holland, had this story to tell me via email the day after the final: "I was in Athens last night and met up with friends I was in Istanbul and Dortmund with. These guys were from Leeds, Morecambe and Oxford. As a former Captain in the British Army, I can assure you that it's written as objectively and as factually as possible.
"I arrived at the Fan Zone 2.30pm. I saw no trouble at all there, nor on the train to the stadium which we left for at approximately 4.30pm. The queues to enter the Olympic Park were quite simply horrendous. There were plenty of riot police who were quite visible although not confrontational. At one point they were actually told by their superior to withdraw slightly to become less visible.
"After queuing for two hours we were finally admitted to the Park at approximately 9.15pm. After a walk through the park to the stadium we were blocked by a police cordon of officers and riot vehicles about 400m from the ground. I estimate there were 150-200 fans there. There was no attempt in this area to charge the police line and there was no reaction from the Greek police. They simply stood their line but refused to communicate with anyone.
"It was obvious that the situation may deteriorate. I asked several times to speak to the senior police officer myself and finally he arrived. He first said that people should stop pushing. In a raised voice I'll admit, I asked/told the group of fans to show some common sense, stop pushing and back off. Without one word of disagreement, the whole group of fans complied instantly. I then spoke with the officer and explained to him that we were all fans with genuine tickets and many of the group produced their tickets to prove this. He agreed and relented and allowed the group to proceed to the stadium. It occurred with no fuss at all.
"I would point out that most of the police in that line seemed to be very young constables who actually looked terrified and I felt sorry for them. This was caused by their lack of communication. You don't simply put up a cordon and then not communicate with your audience about what it is you want them to do. All that simply happens is police and fans end up standing face-to-face and eventually tempers are likely to flare. Acting dumb simply invites confrontation. Thankfully, on this occasion, that did not occur.
"On arriving at the stadium there was no scan to check the ticket [which had a barcode], the steward simply ripped off a corner. It was obvious when I took my seat that many sections of the stadium were overcrowded, including my own, never mind the hundreds of Greek stewards and police sitting in the main aisles –– watching the match!
"If there had been less police in riot gear and more doing the security checks and ticket scans at the entrances to the Olympic Park then none of this would have happened. In the official Uefa guide to Athens, they introduced a coloured wristband system to avoid congestion in the early hours of the morning at the airport. For the several thousands who flew back in those early hours this was a system that worked well. If Uefa could work out that 10-15,000 people might cause congestion at the airport over a couple of hours, why did they not think that 63,000 people might cause worse congestion at the stadium over a couple of hours. If Pythagoras were alive today …
"The match ended and I witnessed no further incidents on the way to or at the airport where my flight to Amsterdam departed at 5.30am."
Walsh offered an interesting insight into how tickets exchanged hands: "I paid over £1,000 for my ticket from a ticket agency in Rotterdam. I collected the ticket in Athens on the day of the final. The ticket is clearly marked as originally belonging to the "Uefa Local Organising Committee –– Ticket No. 00100". The gentlemen in the seat next to me from this committee said some of his colleagues had sold them on, and he just laughed at this. I'm not so naive to think that this doesn't happen but Uefa needs to take a big look in the mirror.
"My overall feeling is that Uefa have little understanding of what the real fans go through. I get the impression they would much rather fill the stadium with guests and sponsors and use sound recordings and library pictures of the real fans. Uefa really needs to become a 'professional' organisation in the true sense of the word."
Architect Paul Gregory threatened to sue Uefa over the debacle. "As a former shareholder in Liverpool FC I am the recipient of three €140 tickets for the Champions League final," he told Henry Winter of The Daily Telegraph. "All are still unused as we were refused entry into the stadium. I was herded, tear-gassed, kicked and baton-charged by riot police outside the stadium for the hour leading up to kick-off and way beyond." He went on to tell of mass crushes that sounded reminiscent of Hillsborough, and of crying children caught up in the panicking, herded crowd.
In the end, Uefa promised to review their organisational procedures, and backtracked over Gaillard's outburst. Michel Platini said: "It's official, Liverpool fans are not the worst behaved." Of course, by then the damage had been done, both to the reputation of Liverpool fans, and to the hopes of many who'd travelled halfway across Europe to watch a game they'd paid a small fortune to attend, only to spend it being abused by riot police.