Benítez's record in Europe was often used as a stick with which to beat his Premiership performance. Now it's being used to say that his job should be on the line.
Of course, Liverpool have progressed massively as a European club under Benítez, after decades more-or-less in the wilderness. And last season, the club posted a Premiership record that would win the title on many occasions; however, sometimes someone is that little bit better, or luckier.
If you happened to play tennis when Pete Sampras was around, or golf when Tiger Woods was at his peak, you could be an eternal runner-up.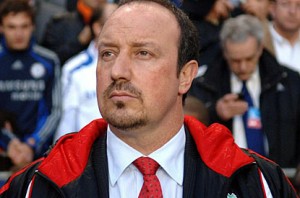 This is the bizarre life Benítez leads. Even his achievements (Istanbul 2005, or 86 points last season) are used to form criticism.
After 2005, people said that massive league improvement was the key to judging him a success: "It's easy to win a few cup games". Last season, we saw that improvement taken to a 20-year high, in terms of points. Then it was "but no trophy".
Few praised him for enabling his team to lose the lowest ever number of games by a team that failed to win the league; at a time when also managing the league's top scorers; so this was no defensive team.
As soon as the two game losing mark was reached this season, last season was suddenly ammunition to attack him with; which all contributed towards a negativity around the campaign. Liverpool were decreed failures for losing two games, and the attacks started, even though last season's achievements were unique. None of that helped.
He is not praised for buying Torres and helping him improve to stellar standards; he is told, quite laughably, that Torres will leave if things don't improve.
He was not praised for buying Alonso, getting some great performances from him (especially, it has to be noted, after the Barry saga), and bringing in £30m; he is told that he never understood or appreciated the midfielder.
Now Benítez is being criticised for 'failure' in Europe. Which, to me, is a bit like suggesting selling prime-years Ian Rush for going a few games without a goal.
Please note: only four men have more victories in the European Cup/Champions League than Rafa Benítez. Victory against Debrecen was his 50th in the competition.
It just so happens that three of the four are at rival Big Four Premiership clubs.
That makes his domestic job harder (as does the fact that the Reds' squad is the 5th most expensive, and the wage bill – the crucial factor research shows to be behind success – the 5th highest. This is a point I will keep repeating until enough people understand.)
Carlo Ancelotti is in 4th place, Ottmar Hitzfeld 3rd, Arsene Wenger 2nd and Alex Ferguson 1st.
Of course, the top two have played far more games in the competition than Benítez, having been at qualifying clubs for a greater number of years, as befits men that much older than the Spaniard.
In terms of percentage of games won (minimum 20 wins), the top manager in European Cup/Champions League history – at the start of this season – was Josef Heynckes, former Bayern Munich and Real Madrid boss, with 66.7%. (Heynckes is currently managing Sami Hyypia at Bayer Leverkusen, and topping the Bundesliga in the process.)
But the clear star from the stats is one Bob Paisley, in second place, with 65.9%, just ahead of Luis van Gaal and Matt Busby. It's probably fair to say that the old European Cup was tougher to win in several ways, although you still needed to win only 50% of your games each year to reach the final: win the home leg 2-0, lose the away leg 1-0, and job done.
However, there is another familiar name in the top 10: Rafael Benítez Maudes. The Liverpool manager has a 57% win rate. (Incidentally, a figure that exactly matches his Premiership record.)
Quite a way back are Ferguson in 17th place (52%) and Wenger in 27th (46%).
(This season, the figures have altered to 56% Benítez, 53% Ferguson and 48% Wenger, but I don't have the full rankings to hand, hence using figures up to June 2009. Stats courtesy of Graeme Riley, author of the annual "Football in Europe" Soccerdata books, and member of The Tomkins Times)
As a season, this has been a bit of a nightmare. But two cups are still up for grabs, and history shows that a place in the top four is usually secured by either Arsenal or Liverpool, no matter how far off the pace at the halfway stage. Teams not used to being there are more likely to 'choke', and Liverpool's luck can surely only improve.
So there's no need to panic, even if the injury crisis needs to abate for a realistic chance of getting back on track.
We've also a lot to see from Aquilani, but I'm not sure the pitch last night was suitable, and the need was to win the game, that was all.
At a time when people with no understanding or experience of management put the boot into Benítez, Arsene Wenger continues to point out that Liverpool haven't got the results they've deserved at times this season. He knows the score; he's been there before. He's showing some real class.
He knows how an injury crisis can affect a team – the loss of Van Persie saw them draw their first blank of the season – and how going to places like Sunderland is not a doddle, even without alien objects scoring goals. He knows the difficulties in taking on the über-rich clubs.
But it all comes back to expectation. Rafa raised them for us in Europe; now he is being hounded because of it. And last year, he raised them for us in the league, to the point where people don't even see a crippling injury crisis as an extenuating factor for being off the pace.
Perhaps people expect Liverpool to be the equivalent of Tiger Woods, as the Reds were in the halcyon days.
But right now, we're more like 'prime years' Colin Montgomerie: currently in the rough during this tournament, but always there or thereabouts, without quite landing the major prize.
However, if Woods had picked up a serious injury, Montgomerie, with no change in his ability, would probably now be hailed as an all-time master.
Maybe last season Benítez was just a penalty decision in the Man United vs Spurs match away from seeing the Reds' main rivals from collapse.
We'll never know, but all Liverpool could do was get United wobbling on the ropes, as the 4-1 victory at Old Trafford had proved so successfully; a few games later, with United looking dazed and confused, the referee intervened, and the rest is history.
Liverpool fans didn't ask for a replay (or after Sunderland), but that goal did the damage France inflicted on Ireland. Alas, that's sport; it happens. But that decision did not make Benítez a worse manager, did it? United changed from iffy to in control from that moment on.
When all is said and done, I'd still rather be the equivalent of a 'Monty' – ups and downs, but generally challenging at most events – than some average golfer that never featured on the big occasions.
Every single season, Benítez has had the club contesting a trophy into May – quite incredible, considering what we were used to in the 15 years beforehand. (Okay, in 2008 it was almost midnight on the very last day of April, after extra-time at Stamford Bridge, but please allow me this one tiny tweak of the calendar.)
If anyone hasn't yet read the incredibly insightful book "Soccernomics/Why England Lose", they really should, for their own good. It backs up Christian Purslow's belief that clubs "should not make managerial and strategical decisions around results in the short-term".
Add in an injury crisis that no manager could hope to work around, and it becomes even more apposite.
I'll submit this piece to the official site, but also wanted to make it a freebie given the overreaction to last night's Champions League exit.