Stan Collymore and Jamie Redknapp – two Reds I used to stick up for in the '90s, but who are now beyond a joke. To be honest, the cream suits debacle deserves to be their legacy. They failed to deliver enough on the pitch, now they put the boot in, week after week.
Time and again, I'd offer a defence on the finer side of Rednapp's game, in the face of abuse that he was a bottler, a pretty boy, a party animal. More fool me, huh? It hurts to be wrong, but clearly I wasted my time with ingrates who it seems are only in the game for the money. Spice Boy? Alas, it seems so. Classless to the last.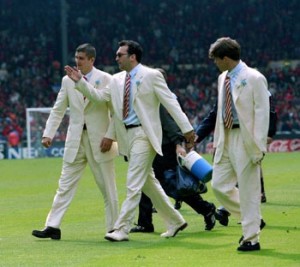 Indeed, Redknapp even tells a funny story himself: Rafa manipulates the media. That's right. "He manipulates the fans, he gets them how he wants them," said the sport's biggest Himbo.
Of course, of course! Rafa Benítez's son, Jamie Benítez, works as a talking (vacant) head for the most powerful football news media in the country, and writes big-mouth stories in various newspapers.
Benítez is beyond criticism, because his son, Jamie, won't dare question him, despite working in what is supposed to be a 100% unbiased news organisation. Instead, Jamie Benítez is always taking potshots at that foreign bloke, Harry Redknapp.
Oh, wait – maybe I got the names mixed up a bit there.
Yes, Benítez manipulates the press. That's why he has given so many press interviews over the years. Oh, hang on, it's actually just one in five years (the excellent discussion with Tony Evans of the Times), plus the meeting I was granted, based on the fact that I actually bother to do research when analysing the team.
But of course, Benítez has so many allies in Fleet Street and Sky Towers. There's Tony Evans, Tony Barrett, Brian Reade and… hmm, scratching my head after that. You can add Guillem Balague, too, although he's hardly a mainstream journo in England, beyond Spanish football.
It must be all the ex-Reds, then. Like Ronnie Whelan, an utter fool of a man – great player, utter plank in terms of acumen – who went on national Irish TV and said that the Liverpool team that faced Debrecen cost £250m. It cost a little over a quarter of that amount.
But hey, that media, eh? Rafa really has them in the palm of his hand, manipulating them. I mean, how dare people like myself point out that being wrong by almost 75% is unacceptable when judging a manager? Should I tell people that Ronnie Whelan only played 100 times for the Reds? Can I be that factually incorrect, to dismiss the man's record, and demean him? 100 games would put him on a par with Dominic Matteo. Hardly fair of me, eh?
Or Graeme Souness? – a man who constantly criticises Benítez, despite having a far worse record as Liverpool manager. Souness – a man whose spending at Liverpool was on a par with Mourinho's at Chelsea, in relative terms; a man who, in blowing most of the club's riches (before the money ran dry) took the club from 1st down to 8th, and left an utter bag of bollocks for Roy Evans, beyond the home-grown lads and Rob Jones.
Yes, these are Rafa's friends in the media. Must be comforting for him, no?
Of course, Redknapp senior would never befriend journos in London drinking holes. He'd never manipulate anything; mud won't stick to him. He has no connections, does he? He'd never use the media to help him in any way, shape or form. Indeed, he is a actually hermit, living in a cave and spending time in a monestery under a vow of silence. Of course, he doesn't talk to the BBC, and he must have his reasons.
Jamie kindly tells us that the problems behind the scenes (with the owners) are partly to blame, but not wholly to blame. Of course, he doesn't mention the Reds' catastrophic injury crisis, that has decimated the side this season. Yet his dad can talk about his injury crisis, when he needs to.
What boils my blood is this, from last year:
"Every manager says their squad is stretched but if I hadn't brought the five back that were cast aside when I came here, we'd be desperate," said the Spurs boss. "We need some cover when we have injuries. You need a squad. Those five aren't in the UEFA Cup squad so I've got kids out of the youth team because you have to have so many homegrown players in your squad."
Or this, from 2002, when Portsmouth were struggling in the Championship:
"All the injuries we have are long-term. We are not going to kid ourselves, we are not going to run all over teams, we clawed a result today but at the start of the year no one knew who would finish higher, Portsmouth or Millwall, and they still don't. There is a long way to go. I'm going to have to try to get some loans in now because I'm missing eight players."
I don't see Harry Redknapp having to defend his team in tough times from the attacks of his son. "Excuses, Harry!" says Redknapp Jnr? Of course not. "Excuses, Harry!" say 'me old mucka' London hacks? Of course not.
Can Harry mention such things without it being a case of manipulating the media? Surely a manager has a right to point out when loads of players are missing, and it be considered factual? In my book, he can. Why can't Benítez?
I have no problem with Spurs. I have no problem with Harry Redknapp, beyond his constant exemption from criticism from one of the game's most visible pundits. He's a really good manager, if a little old fashioned for my tastes. And, lest we forget, totally and utterly unproven at a club expected to win trophies. He's on a high right now, so fair play to him, but it's only November. And he's also got far better backing from the board, in terms of money pumped into the squad; it costs £50m more than Liverpool's. But he's still a good manager, who deserved some slack being cut in times when he was struggling, such as the season in which his team was relegated.
So it's not a case of me attacking Harry, just asking why his son has to spend so much time and energy attacking Benítez, who has a far better record in every which way than Souness, Evans and Houllier, the three Liverpool managers he played under. (And I guess Jamie wouldn't have liked any of them being constantly slated by someone like himself.)
As a Liverpool fan, on Liverpool sites, I defend the record of the Liverpool manager, because, given the club's lack of financial clout, is more than sound. It is based on years and years of detailed research, to enable me to make fair comparisons. It is based on the realities of context, not some spurious whim of a hack. It is based on years of results, not a couple of bad months.
I don't spend my time criticising Benítez, but then again, I don't go into the 'neutral' national media to attack other managers. So therefore I feel I'm not a hypocrite.
However, I hate how Jamie criticises Rafa for his treatment of Robbie Keane, yet his own dad called Darren Bent – now a success at Sunderland – a worse finisher than Jamie's mother. Wow, that's great man-management, eh?
Maybe Spurs would have been better off getting the best out of Bent, rather than buying Crouch? – just using the kind of nonsense people throw at Benítez.
Again, slating Bent so publicly is Harry's right, but for fuck's sake, stop being such an absolute hypocrite, Jamie, about nasty mean Rafa and cuddly old daddy.
'You can't bench players like Robbie Keane' – 'you can't do that £20m players', said Jamie last season. Yet Harry has done so this season.
'You can't play Keane on the left-wing'. Yet Harry has. And so on. Harry has a right to play his players when and where he wants. So does Benítez.
This Liverpool team "is not really going anywhere," Jamie tells us. Well, it's a team that went very far last season. But if there's a crisis at Liverpool, it's been largely injury driven. It's not a Liverpool team; it a mish-mash of whoever's fit at the time.
But I love this pearl of wisdom: "The problem you will get is that will Fernando Torres want to play in the Europa League? I don't think so."
Well, do Robbie Keane, Peter Crouch and Jermaine Defoe?
Of course, they're not actually in Europe at all.
(Excuse my language, but can I be an utter cunt, and come back if Spurs fail to qualify for the Champions League, and suggest all the players who might be unhappy at another year in the European wilderness? Can I start making a living putting the boot in to good managers who deserve better?)
For crying out loud, Torres was signed by Benítez, and has an outstanding goal record only since playing for Benítez.
Stop telling us what Torres will do when you don't know him, or what draws him to Liverpool. He has the utmost respect for Benítez, and unlike a lot of the stuff you come out with, that really is a fact.
Non-football note: I will admit that Redknapp, as neither bald nor big-nosed, has probably never had to endure dates like this.