I've been asked by quite a few people what the Ins and Outs have been in the transfer market since March 2008, following George Gillett's comments. Rather than keep emailing, I've posted a notice here.
Here are the transfers: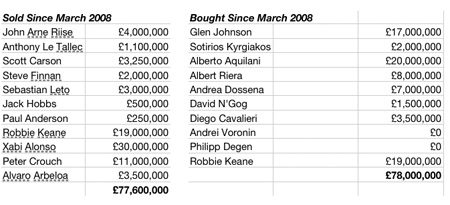 Whether or not the figures people are questioning include wages should be noted; a lot of money has gone into wage increases, which can be a few million each year per player. But then a lot of money comes in annually from tickets, TV, merchandising, etc, not to mention the £20m-£30m generated by the Champions League runs each year.
But in terms of actual transfer fees, the Ins pretty much exactly mirror the Outs. Robbie Keane, while sold for £12m initially, can cost Spurs £19m if all clauses are met.
Far more in-depth financial analysis can be found here.