Don't want ads ? Subscribe to remove them. Only £3.50 a month.
By Mihail Vladimirov
Liverpool lined-up largely as expected – the only change from the last two league matches was Jones replacing the injured Reina between the sticks. On the other side Reading also lined up as predicted. Probably the only real surprise was that Leigertwood was fit to start, given the doubts surrounding him before the match.
Formations
In terms of a basic framework, it was surprising how Reading lined up. They opted to start with only one striker within a sort of 4-5-1 shape (they did this only once up to now during the season, at home against Tottenham). Their midfield triangle was neither a proper 1-2 nor a true 2-1, but was flexible in its positioning in order to be able to cover for Liverpool's midfield players. Liverpool started, as they have for the past couple of months, with 4-2-3-1 formation.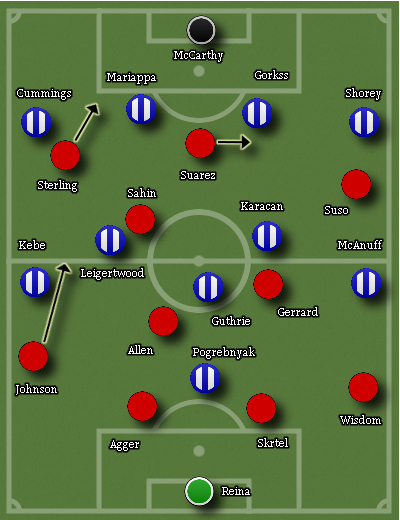 This article is for Subscribers only.
The rest of this article and the comments are for subscribers only
This is a subscriber only article from The Tomkins Times - "the most intelligent guide to LFC around" (Independent on Sunday)
Subscribers get access to the entire site, including hundreds of exclusive subscriber-only articles, free e-books and forums.
Subscriptions cost only £3.50 per month or £40 a year.