Don't want ads ? Subscribe to remove them. Only £3.50 a month.
Starting XIs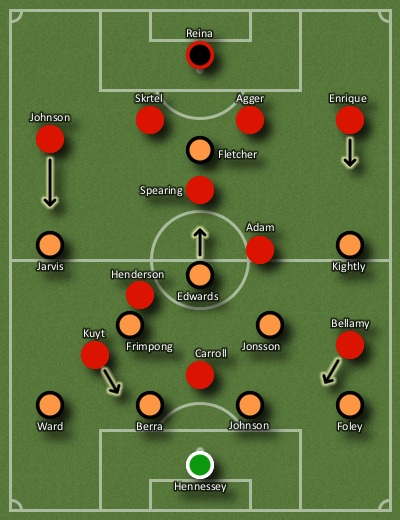 Wolves formation and personnel were as expected. With O'Hara injured and Henry suspended, Edwards was partnered by Frimpong and the new signing Jonsson in midfield. Up front, Fletcher was chosen ahead of Doyle, with Kightly preferred to Hunt on the right. Jarvis continued on the left.
Before the match, I said that I'd be excited to see Liverpool start with the same team (hence formation) that finished the FA Cup tie against Manchester United, or playing 4-1-2-3 with Adam, Henderson and Shelvey (in that order from defensive to most attacking) in the centre, Bellamy and Kuyt on the wings and Carroll up front. This was roughly what happened, although Spearing was declared fit enough to play in place of Shelvey, taking the position of the most defensive midfielder.
As this match was heavily one-sided with Liverpool dominating from start to finish, I'll focus this match report mainly on how Dalglish's players performed in the three main phases – defence, transition and attack.
In defence
Wolves are not a team capable of delivering a constant attacking threat from the central midfield areas. They have neither a quality ball player (especially without O'Hara) nor a quality box-to-box player who can drive from deep positions. Their style is based on attacks down the flanks and employing two defensive-minded midfielders in a central three. They were predictable and therefore easy to counteract.
In this particular match however, the presence of two destroyers meant that the third midfielder – Edwards – had more attacking freedom. The team morphed from a 4-5-1 in defence to a 4-4-1-1 in attack. This gave the striker and wingers more support from behind, which caused Liverpool a few problems during the match. Edwards moved intelligently, trying to run into the channels and use the space in between the full backs and the centre backs to stretch Liverpool's defence horizontally and open up space for Fletcher to exploit. For example, in the 12th minute he caused Liverpool's midfield a problem as they couldn't decide who should track back and cover him. He burst free down the right and delivered a through-ball-cum-cross to Fletcher in the box. Reina reacted well.
The other threat was Edwards' runs from deep, surging past Spearing to provide another target for the wingers' crosses.
As I recently argued, when Liverpool play with both Spearing and Adam in the centre, even in a midfield trio, the team will have problems because both like to close down too often rather than holding their positions. In this match there were a few situations in which first Adam then Spearing showed this problem. This left gaps which, when playing three-against-three in the centre, Edwards was able to exploit.
The other tactical issue was that Wolves attack down the flanks, especially via Jarvis who could get in behind Johnson when the full back made attacking runs. But apart from a few crosses and dribbles, Jarvis created little. On the other wing, Enrique was more conservative and therefore Kightly had far less space. Enrique finished with five tackles out of five attempts. Kightly only threatened Liverpool once, near the end of the first half and from a central position. Here, he and Edwards offered a dual threat against Spearing, and after a quick exchange of passes they got a shot off which just missed the target.
Apart from these problems, Liverpool were comfortable. From the start, the away team pressed from the front. Henderson (the most advance midfielder once again) joined Bellamy and Kuyt as the pressing trio who tried to give Wolves as little time on the ball as possible to hold onto possession. The two deep-lying midfielders were forced to quickly hit the ball to the wings or to the forwards. Only on the few occasions where Adam and Spearing showed indiscipline in closing down too early did Wolves have any space in which to work.
In the first half, Fletcher's other chance was following a corner, from which his header came off the cross bar. In the second half, Ebanks-Blake hit the woodwork from a long shot.
Even when McCarthy opted to play 4-4-2 for the final half an hour by bringing on Hunt (who had gone to the right flank) for one of the defensive midfielders (Johnson) and Ebanks-Blake (put up front) for Kightly, the home team failed to impose themselves on the game.
Transition and in Attack
More interesting was the way that Liverpool got the ball and turned defence into attack – and, of course, how they actually attacked.
The rest of this post is for subscribers only
The rest of this article and the comments are for subscribers only
This is a subscriber only article from The Tomkins Times - "the most intelligent guide to LFC around" (Independent on Sunday)
Subscribers get access to the entire site, including hundreds of exclusive subscriber-only articles, free e-books and forums.
Subscriptions cost only £3.50 per month or £40 a year.

Don't want ads ? Subscribe to remove them. Only £3.50 a month.