Don't want ads ? Subscribe to remove them. Only £3.50 a month.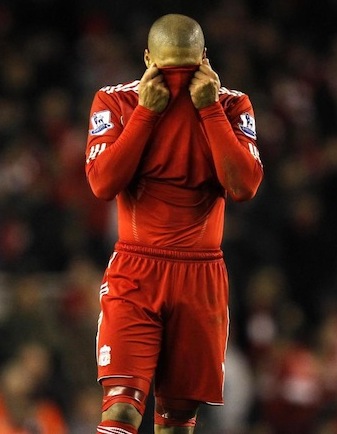 Liverpool's trip to the Reebok Stadium on Saturday comes before two high profile cup encounters with the Manchesters of City (League Cup semi-final 2nd leg, Wednesday) and  United (FA Cup 4th round, Saturday). Fourth place is still an achievable goal despite yet another disappointing home draw against Stoke, so our complete focus needs to be on securing maximum points against a Bolton Wanderers side who are beset by injury concerns and who have the poorest home record in the Premier League this season.
Liverpool secured a 3-1 win at Anfield over Owen Coyle's side and we have an excellent record against Bolton in the Premier League, winning six of the 12 matches played.
Liverpool v Bolton (away Premier League fixtures only):
•   Played: 12 Won: 6 Drawn: 3 Lost: 3 F: 19 A: 15 GD: +4 Pts: 21
Liverpool's overall league record v Bolton (including PL fixtures):
•    Total – P: 117 W: 53 D: 29 L: 35 F: 190 A: 139
•    Home – P: 59 W: 33 D: 16 L: 10 F: 113 A: 56
•    Away – P: 58 W: 20 D: 13 L: 25 F: 77 A: 83
Liverpool's biggest away win and defeat v Bolton (league):
•    Biggest away win (overall): 4 – 0 (21/9/1907)
•    Biggest away defeat (overall): 8 – 1 (7/5/1932)
•    Biggest away win (Premier League): 3 – 1 (2/3/2008)
•    Biggest away defeat (Premier League): 2 – 0 (30/9/2006)
The rest of this post is for subscribers only.
The rest of this article and the comments are for subscribers only
This is a subscriber only article from The Tomkins Times - "the most intelligent guide to LFC around" (Independent on Sunday)
Subscribers get access to the entire site, including hundreds of exclusive subscriber-only articles, free e-books and forums.
Subscriptions cost only £3.50 per month or £40 a year.